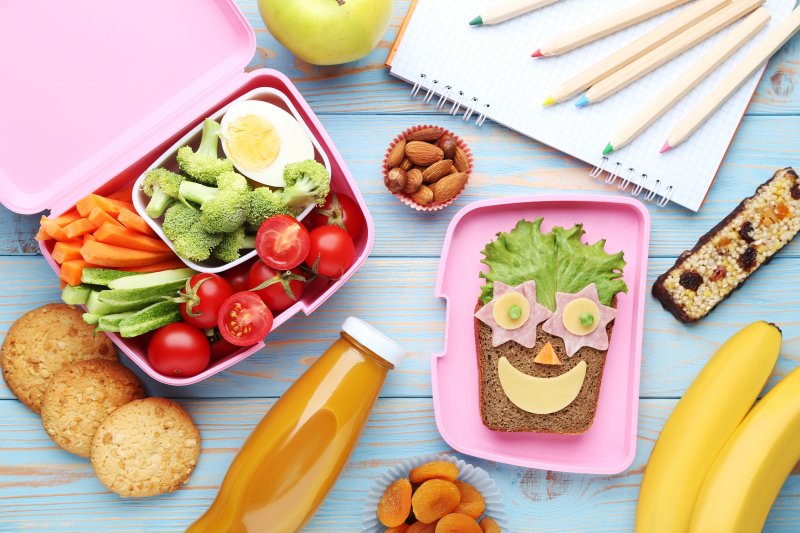 No parent needs to be told how important it is to pack a healthy school lunch for their children, but if you're looking to protect their smiles, you especially need to be careful about what foods they're eating. Since your child won't be able to brush their teeth at school, cavity-causing sugars and starches will be left sitting on their teeth for the rest of the day. To avoid these issues, here are 6 tooth-friendly foods that your young scholar will still love.
1. Carrots
Raw carrots are one kind of vegetable that many children enjoy eating, and they can benefit the teeth in multiple ways. Not only are they full of Vitamin A (which helps strengthen enamel), but chewing on a crisp, crunchy vegetable will scrape plaque and food particles off of the teeth, essentially acting as a natural toothbrush.
2. Apples
Like with carrots, the slightly abrasive surface of an apple will clean the teeth when a child bites down on it. A regular apple will also be much healthier than apple juice, which contains a lot more sugar compared to the normal fruit.
3. Real Cheese
Processed cheese has a lot of preservatives and sugar that can offset the nutritional value. On the other hand, real cheeses (cheddar, Havarti, swiss, provolone, gouda) are an excellent source of protein and calcium, the latter of which is especially important for developing strong teeth.
4. Yogurt
Low-fat, low-sugar yogurts are also a good source of calcium. You can even add some healthy, freshly sliced berries for some added flavor. When checking the amount of sugar in yogurt, remember that a child's serving is less than half than what an adult would have.
5. Homemade Trail Mix
A lot of store-bought trail mixes contain candy and dried fruit that can lead to a greater risk of tooth decay; furthermore, there are certain whole-shelled nuts that could cause your child to crack a tooth if they try to chew through it. Pick out some smile-friendly nuts and seeds on your own to create a trail mix that your child will love; any lunch can benefit from a personal touch!
6. Water
Encourage your child to drink plenty of water after meals or a snack. This will help wash away any sugar or bacteria that's left in the mouth. It's certainly a much better option than soda that can eat away at the tooth's enamel.
There are plenty of other culinary possibilities to consider. Don't be afraid to talk to your children's dentist; they'll be more than happy to give you advice on which foods to include and which to avoid. Create a meal that'll let you protect your little one's precious teeth even when you're not there!
About the Author
Dr. Shweta Sinha uses dentistry as a way to serve her community and is dedicated to providing the best dental care available to families in Fort Worth. She can give parents advice on caring for their little ones' teeth and offers dental sealants and fluoride treatments to protect against cavities. To schedule an appointment at her practice, Smile: Refined Family Dentistry, visit her website or call (817) 431-6400.