Call Your Trusted Keller Emergency Dentist & Team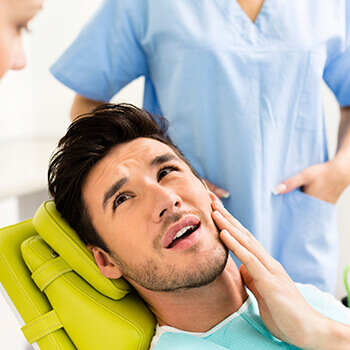 A dental emergency can be painful, stressful, and damaging to your smile, but for Keller patients of Dr. Shweta Sinha and the Smile Refined Family Dentistry team, it doesn't have to be. If you or your loved ones experience toothache, dental sensitivity, chips, tooth loss, soft tissue lacerations, and other oral health concerns in need of urgent care, call our team right away. In most cases, we're able to provide emergency appointments on the same day you call. If for any reason we're unable to see you the same day, Dr. Sinha or one of our knowledgeable team members will walk you through at-home care and pain management until we can see you. Our goal is to help you and your loved ones get out of pain and get your smiles repaired as quickly as possible. Some of the most common dental emergencies we treat at Smile Refined Family Dentistry include:
Chipped, cracked, broken, or knocked out teeth or dental restorations including crowns and bridges
Damaged or bent partial or full dentures or dentures that rub or are ill fitting
Severe toothache or sensitivity to changes in temperature that may indicate a need for root canal therapy
Soft tissue cuts or lacerations that bleed heavily, do not heal quickly, and may lead to infection
If you're unsure your situation is an emergency, we invite you to contact us anyway. The sooner we get started repairing dental damage, the more likely it is we'll be able to fully restore your oral health. If you're concerned your situation is life threatening or dangerous for your overall health, we would encourage you to seek help from your local emergency care facility. Dr. Sinha will be happy to help you repair your smile as soon as we're sure your life is not at risk.