About Smile Refined Family Dentistry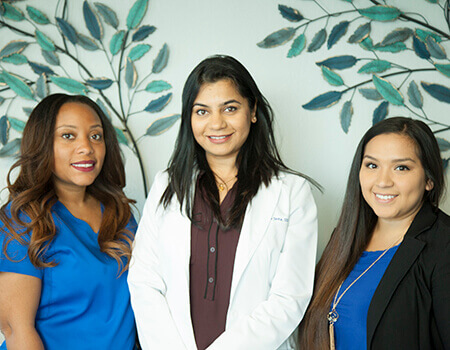 Welcome to Smile Refined Family Dentistry. Thank you for your interest in our state-of-the-art dental office, friendly team, and knowledgeable dentist in Keller, TX. We are proud to offer comprehensive dental care for every member of your family. We treat patients from age one to 100, and our team always goes above and beyond to ensure your comfort throughout even the most advanced dental procedures. Call our team to find out more or schedule an appointment. We also welcome patients from Grand Prairie and other nearby communities.
---
What Makes Us Unique
Trustworthy & Honest
Dr. Shweta Sinha and her skilled dentistry team make every patient we see an important promise: we will always treat you with honesty and integrity so you can trust our team to provide safe and effective dental care. We pride ourselves on creating relationships with our patients that are based on mutual trust and respect. This means you can feel completely confident in our treatment recommendations, and you'll always have all the information you need to make informed treatment decisions.
---
All Ages Welcome
Many patients believe they need to take their children to a pediatric dentistry specialist. However, unless your little one experiences serious developmental concerns, Dr. Sinha and her team are able to offer them dental care for their entire lifetime. This can be very beneficial for your children. Because they will see the same dentist at every age, kids will not need to readjust to a new office around the age of ten or eleven. This can lead to unnecessary anxiety for some younger patients.
---
Network of Specialists
Dr. Sinha has years of experience and training to offer patients a wide array of dental treatments from general and preventive care to more advanced cosmetic and restorative dental services. However, when our patients need the most advanced treatments, we partner with local specialists to ensure they receive the highest quality care. We work with local orthodontists, periodontists, and oral surgeons, and in many cases, they even provide care for our patients in our Fort Worth dental office where patients already feel welcome and right at home.
---
Emergencies Accepted
If you or a loved one are experiencing a dental emergency like chipped, broken, or knocked out teeth or dental restorations, soft tissue lacerations, severe toothache, or damaged dentures, please contact Smile Refined Family Dentistry right away. Dr. Sinha and her team are available to help patients whenever they need us most. We offer same day emergency dentistry appointments whenever possible, and we walk you through treatment options over the phone when we're unable to see you right away.
Learn More About Emergency Dentistry
---
Open on Saturdays
We know how busy our families are, and we do our utmost to provide a variety of appointment times that make dental care fit into even the busiest schedules. We offer morning, evening, and Saturday appointments for your convenience. Best of all, you can book online anytime. Feel free to schedule appointments for the whole family on the same day in order to maximize your convenience.
---
Modern & Hi-Tech Office
Dr. Sinha and her dedicated team use the latest dental techniques and technologies to ensure patients' dental treatment plans are comfortable and effective. Dental technology may not be your first priority when it comes to choosing a dental office, but you'll be surprised how beneficial our technologies can be in making you a partner in your oral health care planning. We use digital images and x-rays to help our patients better understand their oral health concerns and treatment options.