Periodontal Disease – Keller, TX
Protecting Your Oral Health by Removing Harmful Bacteria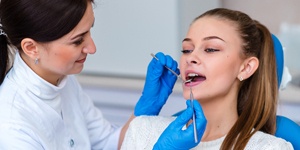 Gum disease is, by far, one of the most common dental problems seen by dentists throughout the country. Millions of people never even realize they have a problem with their gums until they start noticing a bit of bleeding or tenderness around the gum line. Unfortunately, too many avoid the problem and continue to let it worsen, which results in serious consequences for your oral and overall health. As with many diseases, the signs, in the beginning, are few but can be taken care of if addressed early enough. However, if left untreated, periodontal disease can rapidly progress to a stage that will have you experiencing bone and tooth loss. To prevent this from happening, we encourage you to reach out to our team at Smile Refined and let us put your oral health back on track. Call us today to schedule an appointment.
---
What is Gum Disease?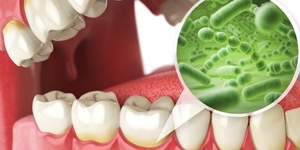 Have you ever noticed the way your teeth look near the gum line? What about your gums? Have you noticed a change in the color or feel? And why is there always blood when I brush and floss? When the early stages of gum disease are present, it is known as gingivitis, and this is when plaque and tartar begin to build around the gum line. Luckily, with thorough dental cleanings and good at-home oral hygiene habits, this can be reversed. Unfortunately, if gingivitis is not treated, it can turn into periodontitis, which is a more advanced form of gum disease. At this stage, bone and tooth loss can become a reality if steps aren't taken.
Gum disease is just one of the many reasons your dentist strongly encourages preventive care. With regular dental cleanings and checkups, our team can spot early signs of periodontal disease and address it immediately. Not only will we be able to remove the harmful bacteria, but we will also, as a result, improve your oral health from the negative effects of gum disease.
---
Signs of Gum Disease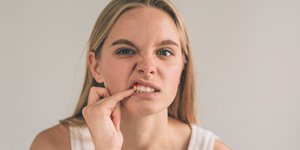 If you notice any of the following signs or symptoms, make sure to call and schedule an appointment with Dr. Sinha as soon as possible:
Red, puffy, inflamed gums
Bleeding gums
Oral sores that don't heal but frequently bleed
Loose or separating teeth
Bad breath
Pus appearing between your teeth and gums
Receding gums
---
Treatment Options for Gum Disease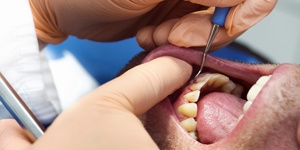 As we mentioned earlier, if you are in the early stages of gum disease (gingivitis), the easiest and most effective method of treatment is a thorough dental cleaning and making sure you are brushing, flossing, and rinsing at home. This will reverse the disease, protecting your oral health.
If gum disease has progressed beyond gingivitis and is in the periodontitis stage, it will be necessary for Dr. Sinha and our team to perform what is known as a scaling and root planing procedure. Scaling will remove plaque and tartar beneath the gum line, and root planing will allow us to smooth out the tooth's root, prevent further infection.
If the problem is further along and this type of procedure will not suffice, Dr. Sinha may need to bring in a periodontal specialist to determine what method of restorative treatment is best for you. At this point, it may be necessary to perform a tooth extraction and discuss tooth replacement options.
---
How to Maintain Gum Health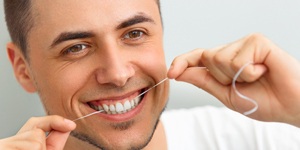 To prevent gum disease from ever developing, there are a few things you can do at home, such as:
Brush your teeth with a soft-bristled brush and fluoride toothpaste. You will do this twice a day for two minutes.
Floss at least once a day, making sure to floss the correct way, so as not to harm your gums.
Rinse with an antiseptic mouthwash.
Keep your regularly scheduled dental appointments.
Limit the amount of sugar you consume. The sugar makes it possible for bacteria to thrive and cause not only gum disease but tooth decay, too.