Transforming Smiles with Restorative Dentistry in Keller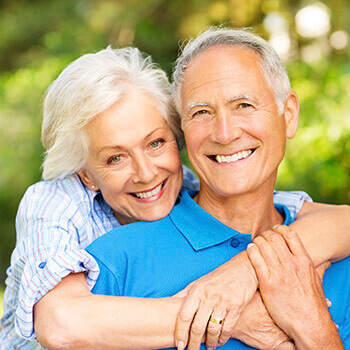 If you experience tooth decay or other dental damage despite your best efforts to keep your smile whole and healthy, Keller dentist, Dr. Shweta Sinha has years of experience and training that allow her to offer effective treatments to fully restore damaged teeth and renew oral health. Whether you're in need of a simple filling or more advanced treatment options like a root canal, call Smile Refined Family Dentistry right away to start down the path to fully renewed oral health.
---
Traditional Crown & Bridge
Dental crowns are one of the most frequently used smile repair solutions. These restorations fit completely over the top of damaged teeth restoring form and function to your smile. A row of dental crowns can be fused together to create a fixed bridge that is used to replace one or more consecutive missing teeth. We offer crowns crafted from a variety of materials including gold, porcelain bonded to metal, and ceramic. Gold is often recommended for back teeth because it's very durable and creates the least wear against opposing teeth. For a more natural appearance, porcelain bonded to metal may be a better solution. They offer a look that blends into the smile line and the durability of metal restorations. Overtime, the porcelain layer can wear away revealing the darkly colored metal below. All-ceramic restorations are the most cosmetic solution and the one that is recommended for those who experience metal allergies. Even after years of wear, they retain their natural appearance.
Regardless of the type of material we use, the dental crown placement process remains the same. You'll need to visit our office at least two times. During the initial visit, we prepare teeth, capture a bite impression, and place a temporary restoration to protect the prepared tooth. Our dental lab uses bite impressions to craft the custom dental restorations. Once we receive the final product from the lab, you'll return to the office to exchange the temporary for a custom crown.
---
Root Canal Therapy
Root canal therapy is necessary when patients experience damage or decay that accesses the innermost layer of teeth, the pulp. The entire nerve system of each tooth is housed within the pulp, so when this sensitive tissue is damaged, the result is extreme toothache pain and sensitivity to temperature changes. Root canal therapy removes the damaged pulp and nerve of the tooth and replaces them with similar biocompatible materials. If you're experiencing toothache or sensitivity, let our team know right away. The sooner we begin the repair process, the more likely we will be able to preserve your tooth and maintain your overall oral health. If we determine you're in need of root canal therapy, the process is simple, and after root canals, most patients experience immediate relief from their toothache.
We start by drilling a small access hole from the top of the tooth. Then, the pulp, nerve, and any damaged dental tissue is extracted from the tooth. Once the damaged tissue is removed, we refill the tooth with gutta percha, a biocompatible material that is similar in structure to dental pulp. Then, we reseal the access hole. In order to ensure the treated tooth retains its strength and structure, we may also need to place a dental crown.
Learn More About Root Canal Therapy
---
Tooth-Colored Fillings
Unlike amalgam fillings that were darkly colored and stood out within patients' smiles, composite resin fillings offer patients a minimally invasive restoration that blends seamlessly into smiles. These tooth-colored fillings allow us to completely repair damaged teeth to full function and flawless cosmetic appearance. Additionally, composite resin fillings are a more conservative solution. To stabilize the amalgams, wedges have to be put into healthy dental structure to hold the filling in place. Composite resin is applied directly to the tooth in a malleable, putty-like form. Once we've shaped the resin into position, we use a curing light to harden the material in position, leaving smiles fully restored and flawless.
---
Dentures & Partials
If you've experienced extensive tooth loss, we know how difficult it can be to perform even the simplest day to day functions like chewing, speaking, and even smiling. Our team will be happy to help you renew your oral health with partial and full dentures. Partials are used to replace a number of teeth along an arch. A gum colored base is molded to fill the gaps between teeth, and replacement teeth are attached to the base. The prosthetic is held in position by metal clasps that connect the partial to remaining healthy teeth. Full dentures are made in much the same way. A gum colored base supports a full arch of replacement teeth. Without healthy teeth to provide support for the prosthetic, dentures are held in place by suction between the gums and the base.
---
Tooth Extractions
While we work hard to help patients keep their smiles whole and healthy, there are some times when it's just not possible to repair damaged teeth. We may recommend extraction to protect your oral health. Some of the reasons we may need to extract teeth include:
Severe decay or damage that makes restoration impossible
If you need to realign crooked or unevenly spaced teeth, we may need to extract a tooth to open up adequate space for teeth to shift into their ideal position
Prior to creating and placing a partial or full denture, we may need to extract teeth that are damaged or weakened
---
Wisdom Tooth Extraction
The most commonly extracted teeth are the third molars, often referred to as wisdom teeth due to their eruption between the ages of 18 and 25 when people are said to have reached the age of wisdom. The eruption of these teeth can lead to a number of oral health concerns including crowding that can cause surrounding teeth to shift and impaction, the inability of teeth to erupt from the gums. To avoid these and other oral health issues, we may recommend wisdom tooth extraction.