Partial & Full Dentures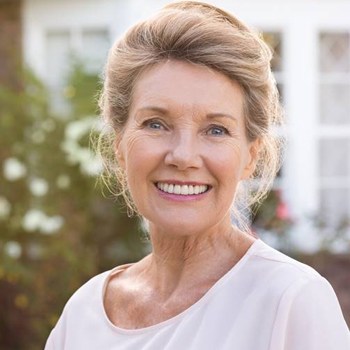 The loss of numerous teeth is, understandably, a difficult and stressful situation. At Smile Refined Family Dentistry, we're passionate about helping to take the stress out of dental care even when it comes to replacing numerous teeth. We offer a variety of tooth replacement options to deliver healthy, functional smiles. Whether you've lost a single tooth or a full row of teeth, our team can help you to completely restore the full form and function of your healthy smile, including partial and full dentures for advanced tooth loss. When you're ready to get started with your tooth replacement plan, call our Fort Worth dental office to schedule a tooth replacement consultation appointment. During your consultation, we'll examine your smile and help you to develop a plan to create a healthy, functional smile that will allow you to speak clearly, chew a wide range of foods, and smile with complete confidence.
---
Partial Dentures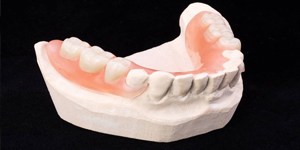 Partial dentures are used to fill in the gaps in patients' smiles. Crafted to fit between remaining healthy teeth, partial dentures are snapped into position using clasps attached to surrounding teeth. A gum colored base material is used to support all the replacement teeth and hold them in place like your natural smile.
---
Full Dentures
Like partials, full dentures use gum-colored base materials to provide support for replacement teeth. Without remaining natural teeth to provide support, full dentures are molded to fit against the gums. The snug fit creates suction that holds a properly fitted denture in place. For added stability, some patients use a small amount of denture adhesive.
---
Are Dentures Right for Me?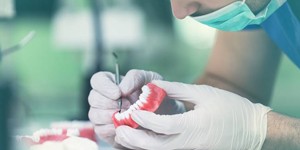 If you've lost numerous consecutive and nonconsecutive teeth or a full row of teeth, a partial or full denture will allow you to reclaim your confident smile. During a tooth replacement consultation, we'll review your treatment options and help you determine whether or not dentures are right for you.
---
How do I Care for My Dentures?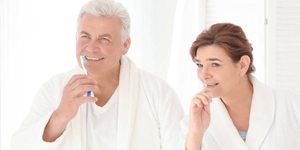 To keep your denture functioning as long as possible, you'll need to remove your prosthetic before going to sleep at night. Brush the denture using an ultra soft toothbrush to remove stuck on food and plaque. Then, store your denture in a container of water or denture cleaning solution overnight. In the morning, rinse your denture thoroughly, and you may want to brush again to remove any buildup that the denture cleaner has loosened overnight. Ideally, you should brush or rinse your dentures after eating. If you still have healthy teeth remaining, continue to brush and floss these at least two times each day. If you don't have teeth remaining, you are still susceptible to gum disease, so we recommend using an antimicrobial mouth rinse to reduce plaque-producing bacteria and keep your smile healthy. During six month dental exams, our team members will be happy to discuss your oral hygiene routine and help you to improve your at-home care to ensure optimal function and longevity for your denture.