Invisalign Clear Braces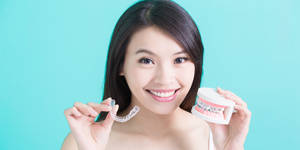 A straight, healthy smile is something every patient at Smile Refined Family Dentistry deserves. Whether you're a busy teen who doesn't have time for frequent orthodontic appointments or an adult worried about maintaining your professional image, Invisalign clear braces may be the best option. If you want to learn more about your orthodontic options, contact our Fort Worth dental office to schedule an Invisalign consultation today. We'll evaluate your smile and help you create the best orthodontic plan to meet your needs.
---
What is Invisalign?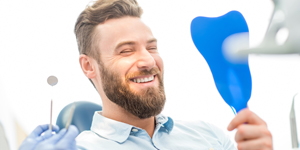 Invisalign is an orthodontic system that uses a series of clear, plastic aligners to shift teeth into their ideal position. Traditional orthodontics use wires to apply pressure to brackets attached to teeth. The wires are adjusted to place pressure on specific brackets and shift teeth into place. Invisalign trays each represent the positioning of teeth one step closer to the desired end result. Patients wear the aligners for about two weeks. Then, they exchange the current set of aligners for the next set in the series. Throughout the course of treatment, you'll need to visit our office every six to eight weeks for checkups. These short visits allow us to check the progress of your alignment to ensure teeth are moving according to plan.
---
How Long Does Invisalign Take?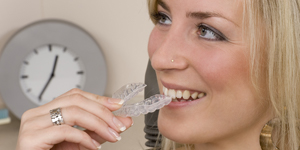 Each patient will receive a unique Invisalign treatment plan. However, the majority of patients complete their treatment in about twelve months. This is half the time it would take for patients to achieve their desired results with traditional braces. In addition to shorter overall treatment time, patients also save time throughout their Invisalign treatment with fewer, shorter checkup appointments.
---
Am I a Candidate for Invisalign?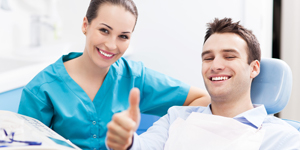 In the early days of Invisalign orthodontics, only very basic bite alignment concerns could be corrected with clear braces. Today, we can use Invisalign to correct a number of orthodontic issues including advanced bite malalignments like over, under, and crossbite. Many patients choose Invisalign rather than traditional braces because it allows them to achieve the same results without the hassles associated with traditional braces, including:
No need to change diet, simply remove your aligners during meals
No need to change your oral hygiene routine brush and floss as usual
Fewer office visits
Look great throughout your treatment
---
Will I Need to Wear a Retainer?
You will still need to wear a retainer after Invisalign treatment. When teeth shift into new positions, retainers are used to hold them into place while the supportive underlying structures reattach. It takes time for the supportive alveolar bone and gum tissue to regrow and fuse with the tooth roots in their new alignment. Most patients need to wear their retainers for about a year. After that, we can slowly decrease the number of hours and days they are worn.