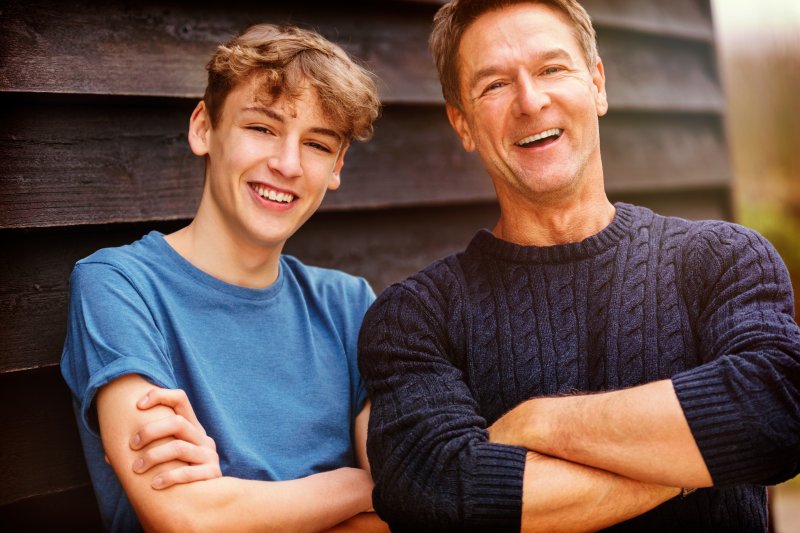 Father's Day is an opportunity to show your dad how much you appreciate everything he does for the family – but it can also be a good time to remind him to take care of himself! June is Men's Oral Health Month, meaning it's the perfect time to learn why men may need to pay extra attention to their teeth. Here are some facts you may want to share with your dad.
Men and Oral Health
In general, men tend to be less vigilant about oral hygiene than women. The American Dental Association found that only slightly less than half of men brush their teeth twice a day; moreover, they are less likely than women to have visited a dentist in the last twelve months.
Because of this, men are often at higher risk for cavities and periodontal disease. Not only can these conditions be very painful, but they can easily lead to tooth loss if they aren't treated quickly enough. In the worst-case scenario, an uncontrolled infection can create an abscess, or pocket of bacteria-filled pus, that can spread to other body parts and potentially cause life-threatening complications.
How Men Can Better Protect Their Teeth
Fortunately, good preventive care is often the key to avoiding the worst of oral health problems. Here's a checklist that you can make sure your dad is following:
Maintain a good oral hygiene routine by brushing at least twice a day and flossing daily. Don't rush; it's recommended that you brush your teeth for two minutes at a time. Make sure you're cleaning the whole tooth, including near the gumline. If you're uncomfortable using traditional string dental floss, you may find water picks or interdental brushes easier and more comfortable to use.
See your dentist at least twice a year; it can be difficult to find time to get away from work for an appointment, but those checkups are vital for identifying potential health issues as early as possible. Plus, if you have dental insurance, you'll want to take advantage of the benefits before they expire by the end of the year!
Use a mouthguard while playing sports.
Some medications can dry out your mouth; in these cases, drink plenty of water to help keep your mouth clean.
Smoking or chewing tobacco can increase your risk of oral cancer or gum disease. If you use this substance, you may need to see the dentist more often for cleanings; these checkups will also usually include an oral cancer screening.
Your dad may need to be reminded that taking care of himself is just as much a priority as taking care of everyone else. Talk to him about his oral habits or certain behaviors that can put him at risk. It can be a new way to show your appreciation for all that he does!
About the Author
Dr. Shweta Sinha strives to provide her community in Fort Worth with the best compassionate dental care available. In addition to regular cleanings and checkups, she can perform periodontal therapy to treat gum disease and provide mouthguards for those who enjoy sports. To schedule an appointment at her practice, Smile Refined Family Dentistry, visit her website or call (817) 431-6400.