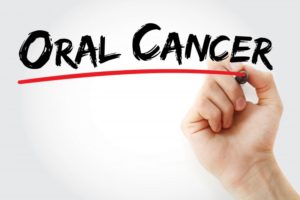 April is a great time of year—a time for new beginnings, blooming flowers, and warmer weather. But did you know that April is also Oral Cancer Awareness Month? Just how much do you know about oral cancer? Have you been screened for it lately? Take the opportunity this month to learn more about this disease and how oral cancer screenings can help you stay healthy in the long term.
Oral cancer is a serious disease.
Although not as common as other cancers, oral cancer is still a serious condition that deserves attention. In 2019, 53,000 people are expected to be newly diagnosed with it, and out of that number, only about 30,210 are likely to still be alive five years from now. That's a general survival rate of 57 percent. However, when it's caught early enough, the chances of survival jump up to 90 percent. That's why it's so important to have an expert in orofacial structures and problems evaluate you on a regular basis.
Oral cancer doesn't just affect smokers and drinkers.
Although tobacco use and heavy drinking of alcohol are major risk factors for oral cancer, it impacts more than just these groups. Those who have had exposure to the human papilloma virus are also at risk. Even then, 10 percent of the people diagnosed with oral cancer have no known cause at all, so anyone could get oral cancer.
Oral cancer screenings are built into your regular dental checkups.
The good news is that you don't have to take any extra time out of your busy schedule to have an oral cancer screening. You already have one when you visit the dentist every six months. In fact, you might have had one in the past without even knowing it. It's yet another reason to attend your semiannual appointment with the dentist.
Oral cancer screenings are fast and pain free.
Your dentist performs an oral cancer screening by visually examining the inside of your mouth, specifically your gums, soft and hard tissues, and your tongue. Then, they gently feel your neck, throat, and jaw for any suspicious masses. It's that simple! Within a few minutes, you're all done. If they do find something of concern, they will refer you to your doctor who can run additional tests.
With all these reasons, why wouldn't you want to get an oral cancer screening? It only takes a few minutes but could make a huge difference. If it has been a while since you've seen your dentist, now is the time to get back on track. That way, you can either have more peace of mind about your health or you can get the treatment you need to have many more years of life ahead.
About the Author
After getting her bachelor's degree in dental surgery in India, Dr. Shweta Sinha came to Southern California and attended Herman Ostrow School of Dentistry, where she graduated in 2010. She and her staff at Smile Refined Family Dentistry can meet many dental needs, ranging from routine checkups to more complex restorative and cosmetic procedures. To make an appointment with her, call (817) 431-6400 or click here.