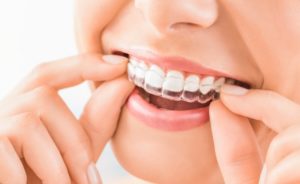 Do you have a crooked or misaligned smile? You may already be aware of how your crooked teeth affect your grin aesthetically, but did you know that they can affect your oral health too? Thankfully, Invisalign treatment offers a way to straighten your teeth quickly and discreetly to give you a beautiful looking and incredibly healthy smile. Read on to learn how your crooked smile can affect your oral health as well as the benefit of having straight teeth in Keller.
How Can Misaligned Teeth Affect My Oral Health?
Smile alignment and bite issues can affect your oral health in various ways, but here are some of the most common:
Harder to Clean Teeth
The biggest issue with crooked teeth is that they make it harder to brush and floss. Because they are squished together, they often harbor plaque and bacteria that can't be reached by your brushing and flossing routine.
Higher Risk of Gum Disease
If your teeth are crooked or misaligned, your gums can't fit around them as snuggly as they would straight teeth. This leaves small pockets in your gums that attract bacteria and plaque. Without cleaning this debris away, your gums could get infected.
More Wear and Tear
Because your teeth aren't fitting together properly, it puts more stress and pressure on the teeth that are protruding or rubbing against each other. This can cause your enamel to wear down, which leads to tooth sensitivity and other dental issues.
Bad Breath
Because you can't clean your mouth as well with crooked teeth, they may be to blame for your bad breath. The pesky bacteria that lives in the hard-to-reach areas of your smile can cause consistent bad breath if it isn't cleaned away.
What is Invisalign Treatment?
Thankfully, there's an answer to your problem! Invisalign treatment uses a series of clear aligners to gradually shift your teeth into a perfectly straight position. The aligners are made of clear plastic, so they're almost invisible. Plus, they're completely removeable, so you can eat all of your favorite foods. For mild to moderate alignment and bite issues, Invisalign can give you a beautifully straight smile in 12 to 18 months.
How Will I Benefit from Invisalign Treatment?
Besides eliminating all of the negative effects that crooked teeth can have on your oral health Invisalign in Keller will give you:
A straight smile in a shorter amount of time than traditional braces (on average)
More confidence because of a great looking grin
Comfort while straightening your teeth because it's made of smooth plastic
The ability to eat all of your favorite foods because the aligners are removeable
The ability to smile in social and work settings without worrying about metal wires and brackets in your mouth
Now that you know some of the negative ways crooked teeth can affect your oral health, does it sound like Invisalign treatment is right for you? Talk to your dentist in Keller to see how you can get a straighter set of pearly whites.
Meet the Dentist
Dr. Shweta Sinha takes pride in offering Invisalign treatment as a way to give her patients straight smiles in the most discreet way possible. She currently practices at Smile Refined: Family Dentistry, and she can be contacted through her website or by phone at (817) 431-6400 for any questions.