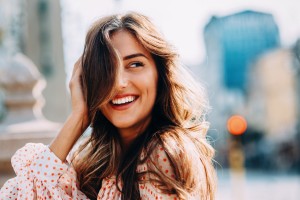 Have you been looking for a cosmetic dentist in Keller that has a dedicated, state-of-the-art dental office to back them? Look no further! Dr. Shweta Sinha and her dental team at Smile Refined Family Dentistry proudly offer trustworthy, convenient, modern cosmetic dentistry for patients of all ages. We know how much weight having a not only functional, but beautiful smile holds. Dr. Sinha is here to help you refine your smile with the most exceptional dentistry in the Keller area.
Cosmetic Services You Need
If you're not satisfied with any of your teeth's characteristics, our cosmetic dental services can help you transform the smile you're embarrassed of to something you can't stop showing off! Dr. Sinha has years of experience and training to offer a range of cosmetic dental services. Some of the most popular services we offer are Invisalign, teeth whitening, and porcelain veneers.
Invisalign Orthodontics
Invisalign clear braces consist of a series of practically clear aligners that no one can tell you're wearing. We make each set custom to fit just your teeth and smile. Each set of aligners applies a gentle pressure to guide teeth into the correct locations. You wear each set of aligners for about two weeks, removing them only to eat, drink, brush, and floss. That's right—they're removable! Other benefits include:
You don't have to adjust your dental routine.
Enjoy your favorite foods during your treatment.
Boost your confidence because you're correcting your teeth seamlessly.
Teeth Whitening Treatments
Everywhere you look—whether you're going to the grocery store or just browsing TV channels—you want help but to run into a product that promises a whiter smile. Unfortunately, over the counter whitening kits aren't nearly as effective as getting a new smile rejuvenated in our practice or with a doctor prescribed at-home whitening kit. You can reap these benefits from our teeth whitening treatments.
effective in removing any surface level or deeper set stains.
Boost your confidence.
Boost your oral health and maintenance.
Gives you a newfound youthful appearance.
Porcelain Veneers
If you feel like your smile just has "too many" flaws to correct, think again. These "instant makeovers" cover chips, cracks, gaps, and stains on your teeth. You don't have to receive numerous dental procedures and treatments to get the smile you've been longing for. Porcelain veneers are thin shells of high-quality dental porcelain that easily fit over your front teeth. Dr. Sinha designs your porcelain veneers in Keller based on your wants and needs. In just a few dental visits, your dentist in Rocky Hill can refine your smile in these ways:
Cover irremovable stains.
Correct the shape of your teeth.
Shape your teeth to fit your smile.
Fill in the gaps of your smile.
Correct any misalignments.
Visit Your Cosmetic Dentist
Even the healthiest patients can fall victim to frustrating imperfections that are out of their control. Our practice wants to make it easy for everyone to smile with confidence. Contact our Fort Worth office today and let us help refine your smile!