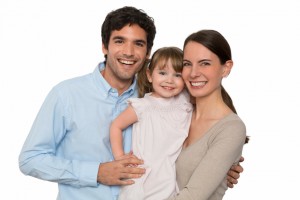 When it comes to your loved one's dental health, your family deserves to benefit from the best. Why not choose a 5-star dentist with Smile Refined? As a family dentist in Keller, TX, Dr. Sinha provides complete dental care for patients of all ages—even young children. We simplify dental services by providing your family with the treatments you need through all stages of life under one roof. You will enjoy exceptional dentistry while discovering what sets us apart from other dental practices in the area. We raise the bar for high-quality dentistry for the entire family.

Complete Dental Services
Life is busy. You do not have the time to run to multiple dental offices for different treatments, especially when raising a family. Not to mention, each person in your family has unique needs. You need complete dental services to treat everyone in your family from one convenient location.
We offer the preventive care your family needs to maintain a healthy smile. In addition, we have the restorative procedures needed to replenish the health and function of damaged teeth. Also, as a cosmetic dentist in Keller, TX, Dr. Sinha will ensure your family's smiles always look their best.
We understand that you need a dentist who is always there for you, even during emergencies. We offer emergency dentistry services to help you when the unexpected happens. We treat all dental emergencies, including knocked out teeth, lost crowns or fillings, and dental abscesses with quick, comfortable care.
We combine our extensive qualifications in dentistry with the latest technological advancements to provide superior dental care. Our state-of-the-art office features digital x-rays, intraoral cameras, and much more. You will enjoy added comfort and convenience while we provide more precise diagnosis and treatments.
Affordable Dentistry You Can Trust
The American Dental Association recommends every one over the age of two sees their dentist every 6 months for preventive care. However, we understand that cost often influences your decision to see your dentist. To keep dental care more affordable, we are in-network with a wide range of dental insurances.
We will help you maximize your dental benefits as an in-network dentist for Aetna, Blue Cross Blue Shield, Cigna, and several other insurance companies. We will file the necessary claims to ensure you are utilizing your benefits to their full potential. If you should have any out-of-pocket costs, we also provide an in-office savings plan and flexible financing to pay for dental services.
Your 5-Star Dentist for the Family
We take your family's oral health seriously to maintain a lifetime of healthy smiles. We work hard to deliver personalized care to reach oral health goals. With our patients the center of our focus, we take the time to ensure everyone is comfortable while achieving their perfect smile.
If you are ready to benefit from the dental services your family deserves, it is time to contact your 5-star dentist to schedule an appointment. We look forward to seeing your family smile.