Meet Your Keller Dentist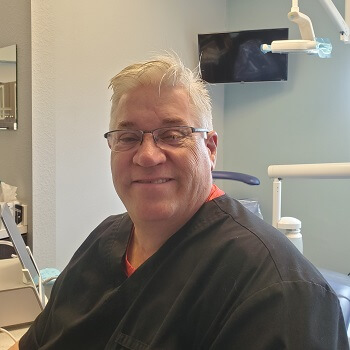 Dr. William Starck
Dr. William Starck is a native of Milwaukee, Wisconsin where he received his Doctor of Dental Surgery degree from Marquette University School of Dentistry. He completed a fellowship in hospital dentistry and oral surgery at the Johns Hopkins Hospital in Baltimore, Maryland, and an anesthesia residency at the Medical College of Pennsylvania in Philadelphia before entering an oral and maxillofacial surgery residency at Allegheny General Hospital in Pittsburgh.
Following the completion of his oral and maxillofacial surgery residency training, Dr. Starck spent two years in a post-graduate fellowship in cosmetic facial surgery, orthognathic surgery, and cleft lip and palate surgery at John Peter Smith Hospital in Fort Worth. He is also a Diplomate of the American Board of Oral & Maxillofacial Surgery. His special areas of interest are dentoalveolar surgery, dental implant surgery, and bone grafting, as well as ambulatory anesthesia.
When not at work, Dr. Starck can be found spending time with family or in his workshop, rebuilding 1970-era Ford trucks.